Creating Affordable Housing Opportunities
Itasca County Housing and Redevelopment Authority offers affordable housing opportunities to eligible individuals in Itasca County. ICHRA is a fair housing agency and we do not discriminate against any person because of race, color, religion, sex, handicap, familial status, or national origin.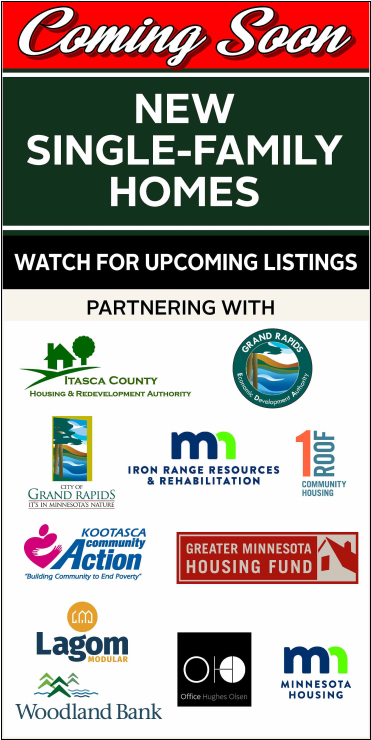 GRAND RAPIDS, Minnesota – Itasca County HRA, in partnership with KOOTASCA Community Action and One Roof Community Housing (Duluth, MN), has been awarded funding from Minnesota Housing and the Iron Range Resources and Rehabilitation Board to construct eight single-family homes on the former Forest Lake School site in the northwest part of Grand Rapids.
Construction has begun on the homes. The special funding used to build these houses will permit the homes to be sold to an income-eligible family at an affordable price. A family must have income less than $89,400 in 2023 to qualify.
The eight homes are comprised of four 2-bedroom homes and four 3-bedroom homes. The 2-bedroom homes will be one-level, while the 3-bedroom homes will be two story.
The homes will be marketed and listed for sale starting in late fall 2023 and income-qualified individuals or families must complete an application, complete a homebuyer education class, as well as have the ability to obtain a mortgage with an approved lender. Projected sale prices will range from $185,000 to $200,000, with up to $30,000 in downpayment and closing cost assistance available. Pre-construction appraisal values were $266,000 for the 2-bedroom home and $350,000 for the 3-bedroom home.
Applications are not being accepted at this time, but the public will be notified when the application period opens.
Homebuyer Education Classes, Counseling, and Financial Assistance is available to interested buyers from KOOTASCA Community Action and information can be found at www.kootasca.org/programs/homeowners/homebuyer-education-counseling/.
For more information about what Community Land Trusts are and how they work, visit One Roof Community Housing's website at: https://1roofhousing.org/homebuyers/community-land-trust/.

OUR HOUSING PROGRAMS
Find the right program that can help in your situation
The participant is free to choose any housing that meets the requirements of the program.
Bridges is a rental assistance program that serves persons with a serious mental illness.
Provides rent assistance, in connection with supportive services, to homeless persons with disabilities.